The property with 31,500 square metres of hall space is being built in the Müllendorf Business Park, 55 kilometres south of Vienna. The new building is scheduled for completion in the first quarter of 2022. The Hamburg-based project developer is investing around 28 million euros in the site.
The logistics centre is planned with a total area of 34,000 square metres. The hall accounts for 31,500 square metres of this. It will be 10.50 metres high (lower edge of truss) and have a floor loading capacity of six tonnes per square metre. "This makes the new building suitable for a wide range of logistics services," says Jan Dietrich Hempel, Managing Director of Garbe Industrial Real Estate. It has not yet been decided which companies will use the new building. "We are in contact with various prospective tenants," said Jan Dietrich Hempel. "As expected, demand is high. That's why we anticipate leasing while construction is still underway."
The hall is designed in such a way that it can be divided into units of approximately 5,000 square metres or more. Trucks can dock at 30 gates for loading and unloading. 1.500 square metres have been earmarked for offices and social rooms. 700 square metres will be mezzanine space. Parking spaces for 89 cars and 15 trucks will be created on the outdoor grounds. In order to generate regenerative energy, the roof of the hall is being prepared for a large-scale photovoltaic system. Goldbeck Rhomberg GmbH was commissioned as the general contractor for the construction of the logistics property.
Garbe Industrial Real Estate acquired the approximately 63,000-square metre, construction-ready site just a few months ago.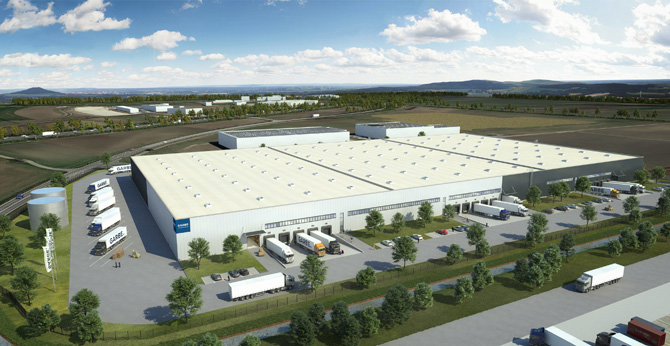 This is one of the last available sites in the Müllendorf business park. "The location between east and west, the proximity to the conurbations of Vienna, Budapest and Bratislava, the transport links and the good economic conditions were the decisive points for us to get involved here," emphasises Jan Dietrich Hempel.
The site is located five kilometres west of the provincial capital Eisenstadt, only a few hundred metres from the junction to the A 3 motorway. It connects Müllendorf in a northerly direction with Vienna. In the southerly direction, the Austrian-Hungarian border is 15 kilometres away. It is about 80 kilometres to the Slovakian capital Bratislava.
Müllendorf's mayor Werner Huf welcomes the new settlement: "The construction of the logistics centre will ensure a healthy mix of industries in the business park and create additional jobs. Thus, the investment by Garbe Industrial Real Estate further enhances our business location in several respects."
The Burgenland Business Agency assisted in the siting – from the sale of the land to the realisation. "The establishment of Garbe Industrial Real Estate not only strengthens Businesspark Müllendorf, but also the entire Burgenland business location," says the managing director of the business agency, Mag. Harald Zagiczek.